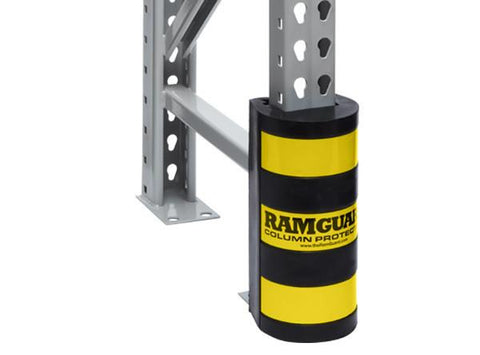 Keep Your Racks and Warehouses SAFE with RAMGuard™!

Superior Column Protection

RAMGuard™ provides superior rack column protection with its patented Rubber Armored Metal design. Molded of energy absorbing rubber with a "U-shaped" steel insert and force distributing rubber voids, RAMGuard absorbs significantly more energy during impact than most column protection devices offered today.

RAMGuard™ Advantages

- Protects rack structures from frontal, angled and side impacts.

- Significantly lowers impact damage to pallet rack columns.

- Requires no hardware or straps to retain the guard on a column.

- Endures many impacts with no loss of performance.

- Significantly outperforms most plastic guards commonly used today.

Available in 12-inch heights, RAMGuard snaps onto rolled or structural steel columns 3-inches wide and up to 3-inches deep.

Visit us today to learn more.



https://

www.5swarehouse.com/

products/

ramguard-rack-protector

We appreciate your business!