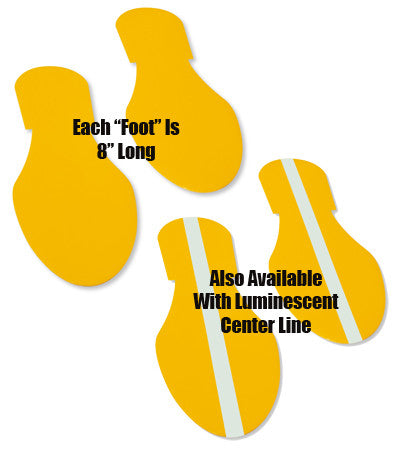 Do you need to identify walkways and exits?
5S Warehouse | Mighty Line 5S Floor Tape Footprints are exactly what you're looking for.
Use different colors of Mighty Line safety floor tape footprints to mark different safety areas (Available in the colors below - and even in Glow In The Dark).
Our floor tape footprints have a three year limited warranty.
Click here - https://www.5swarehouse.com/collections/5s-floor-marking-tape-footprints - for all our available footprints.
In any business, time is money. Time lost working impacts any company's bottom line. Although floor marking paint has been a mainstay in most warehouses and factories, businesses are switching to safety floor marking tape as they realize paint takes longer to apply and maintain.
http://www.slideshare.net/5sWarehouse/5s-floor-marking-tips-and-5s-color-standards
5s Warehouse 5s Floor Marking Guide is the best guide for floor marking tips and 5s Color Standards for your warehouse. This floor marking guide offers tips in making your floor marking OSHA Compliant. Use our durable 5s Warehouse floor tape and floor signs for your warehouse and lean facility today. Visit www.5sWarehouse.com for more details.